I wrote several short pieces for Not For Tourists when the publication first started in D.C.
http://www.notfortourists.com/AccountProfile.aspx?userID=85298&showall=true
Role: Designer, Developer, Writer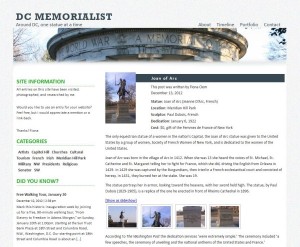 I designed this blog as a place to gather information on statues and memorials in D.C. and to work on theming in WordPress.
This blog is a compilation of statues I've run across and how they came to be. Mainly I'm interested in who petitioned Congress, or what Congress did to get that statue where it is, and how much money was appropriated or donated. So the next time I'm walking up Massachusetts Avenue I understand why Robert Emmet is standing in the shade of the trees at Mass. and S., or if I'm enjoying an afternoon in Meridian Hill Park I know how Buchanan, the controversial 15th President, got the honor of a memorial before Abraham Lincoln did, or why there are horses at the end of Rock Creek Park and what they signify.